Kundalini Codes Activation Facilitator Training
Next LIVE 5 Day Immersion in Laurentides, Quebec

October 9 - 13, 2023
Kundalini Activation Training in Montreal, Canada
An 8 Month Journey to Become a Kundalini Activation Facilitator & Guide People into Life-Changing Kundalini Awakenings
A comprehensive online & in-person transformative experience
There's No Denying the Call
Kundalini Energy is asking you to work with Her & embody Her healing & liberating frequency for the Collective.
You feel the pull to activate unconditional Love within yourself & others.
You desire to re-anchor Heaven on Earth consciousness on the planet. 
You are emboldened to immerse in deep emotional healing & liberate yourself & others from contractive programming. 
This is what we are Here to do as Kundalini Codes Activation facilitators. 
There is a Great Collective awakening of Divine Mother Consciousness, Truth & Love on the planet & we are here to support the ripple effect.
A 3 Spiral Journey IN OUR KUNDALINI ACTIVATION TRAINING
There are 3 phases to this Kundalini activation training that honours your personal healing journey simultaneous to your facilitator embodiment. 
These are 3 spirals that take us deeper & deeper into the core of Mother Rose & brings us right into our Heart center  🌹  
In learning the Kundalini Codes methodology which is a part of my greater Truth Alchemy approach, we weave both the Right Hand & Left Hand paths to awakening Kundalini from a trauma-informed & nervous system integrated perspective. 
Our process involves the Trinity of Transformation with Mind, Body & Energy 
This Kundalini activation training is a part of the Truth Alchemy Practitioner Certification (TAPC) School 
involves Kundalini kriyas & pranayam (physical practice & breathwork) to strengthen the nervous system & initiate the body's natural clearing process for Kundalini energy to move. Kundalini Codes Embodiment (KCE) is a blend of traditional Kundalini Yoga kriya practices, breathwork, mantra & intuitive movement to lead the mind, body & spirit into a ceremonial healing journey.
Intentional music plays a huge role in activating dormant emotions & stimulating cathartic releases & transformation.
* Here's a 13 minute practice for a taste of Kundalini Codes Embodiment! *
is Kundalini Energy Activation. This is built upon the Inner Dance by Pi Villaraza, & is a surrender-based practice to opening the Kundalini life force within. Using brain-wave shifting sound that induces a psychedelic state of consciousness & channelling a frequency of Kundalini & Light Language supported by the Isis-Magdalene Rose Lineage, we learn to self-activate our innate life-force & to hold this energy for others to open theirs.
This process facilitates profound emotional releases, expands one's consciousness, opens the heart & catalyzes a deep nervous system rewiring to shed old patterns & stories.
In this interview I did, I share about the weaving of the Right & Left hand paths & how specifically Kundalini Energy Activations work. 
Spiral #1: Foundational Roots
Online Self-Paced Learning & Experiencing
We begin with online pre-recorded content that explores foundational nervous system, Rose Lineage mystery school & Kundalini Yoga teachings including…
Trauma-Informed Foundations
Return of the Divine Mother Consciousness
Basic Operations of the Nervous System
(Re)defining Trauma & Understanding Its Effects
Polyvagal Theory & Nervous System Responses
Neuroception & the Life-Changing Embodiment of Safety
Developing Body Awareness & Safety in Feeling
Embodying the Rose Codes of the Isis-Magdalene Lineage
Kundalini Codes Yoga & Embodiment
Fundamentals of Kundalini Energy, the Kundalini Codes Framework & Kundalini Yoga
Fundamentals of Yogic & Western Anatomy
Exploration of the Koshas, Subtle Body & Heart Coherence
Kundalini Pranayama & Its Application to Nervous System Healing
Kundalini Mantras & the Healing Medicine of Sound
Kundalini Kriya Foundations
Experiencing Core Kundalini Kriyas for Self & Client Healing
Surrendering into the Experience of Kundalini Meditations
Designing Multidimensional Kundalini Embodiment Journeys
Kundalini Codes Activation Prep
The Embodiment of Surrender
Foundations of Kundalini Codes Activation Journeys
Kundalini Energy Activation Framework
Process of Energetic Alchemy
Exploring the Microcosmic Orbit
Every training transmission includes a detailed workbook & notes for you to review & apply your learnings.
You will also receive specific Kundalini transmissions & Kundalini Codes Yoga & Embodiment practices to integrate into your devotional practice.
During this time, you must also complete a minimum of 5 KCA Journeys with me (Ella) either virtually or in-person to clear your vessel & deepen your body connection to Kundalini energy. 
*The cost of these sessions is INCLUDED in your investment* 
PEEK INTO SOME OF THE TRAININGS
Spiral #2: Embodied Activation
HERE'S A SIZZLE REEL FROM OUR HAWAII 2023 IMMERSION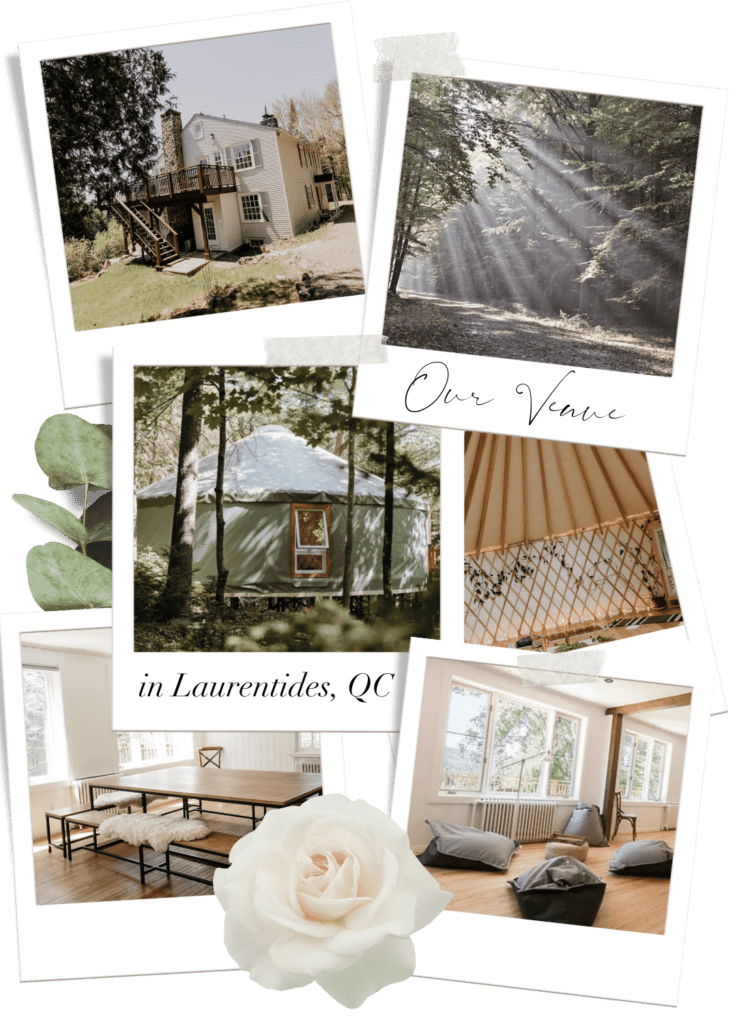 (5 days from oct 9-13, 2023)
Over 5 days, we will meet in the luscious forests & Nature in Laurentides, QC – about 1 hour north of Montreal/ Tiohtiá:ke. With the deepest respect for the traditional territory of the Kanien'kehà:ka Nation that we will co-create on, we will begin a profound experiential & learning journey to further expand our Kundalini transmission & resonance vessels.
In our live Kundalini activation training, we will explore… 
Activating Our Kundalini Transmission & Resonance Vessels
Accessing a Non-Dual State of Consciousness & Deepening Our Relationship with Kundalini Energy 
Facilitating Kundalini Energy & Body Work 
Inducing the Dreaming-Awake State Using Brainwave Shifting Sound 
Self-Activating Kundalini
Opening Our Light Language Channels for Energetic Activation & Healing
Core Principles for Leading Your KCA 1:1 & Group Sessions
Each day includes concentrated KCA ceremonies, teaching & practice facilitation. Plus, we will have a dedicated photographer + videographer (Danylo Bobyk) recording footage of you facilitating to use to promote your sessions. 
4 nights of lodging & delicious vegetarian meals included from Oct 9- 12. We will depart by end of day Oct 13 so there is no lodging that night. 
*Transport to the venue will be arranged from Montreal* 
Spiral #3: Sacred Deepening
Online Deepening & Group Mentorship Support
(6 months STARTING from after live immersion)
As we integrate from our powerful in-person embodied Kundalini activation & training, we continue the deepening online with community support & …
Additional self-paced pre-recorded trainings on

Guiding the Kundalini Awakening Process
Foundations for Online KCA Facilitation 
Safe Space Holding for Trauma & Emotional Processing
Additional Somatic Tools for Guiding Integration  
Co-Creative Alchemy for Healing Shame  
Healing with Masculine & Feminine Energies 
Leading Energetic Alchemy Experiences
Art of Co-Creating Ceremonial Healing Space

Practicum where you will be asked to facilitate a group session & share back your reflections
Monthly group mentorship call where you can receive support on your personal & facilitation journey  
6 months access to the Kundalini Temple which includes 2 x virtual group KCA sessions per month & 15 portals of content to explore(value of $700 USD) 
THROUGH THIS IMMERSIVE KUNDALINI ACTIVATION TRAINING
Initiate & deepen your life-changing Kundalini awakening journey that supports you in healing
past traumas, opening your Heart & liberating your Creative life-force
Learn the core nervous system soothing movement & breath practices to integrate in your day to day
& to teach to clients for activating inner peace & safety
Develop a direct connection with the Source of Kundalini energy & nurture your own unique relationship with
Her to bring in your one-of-a-kind healing frequency 
Expand your capacity to hold + alchemize the full spectrum of emotional experiences with love for our humanity
& hold space for others to do the same
Become a knowledgeable & embodied holder of the Kundalini frequency to share with others through
  1:1 & group Kundalini embodiment & Kundalini activation sessions 
Grow your confidence as a Divine channel & bring Light Language & Light Codes into your healing
experiences & ceremonies
Cultivate lasting friendships with likeminded Souls & create opportunities for collaborations &
support with one another 
to Become a Kundalini CODES Activation FacilitatOr
The investment for this 3 spiral & 8 month Kundalini activation training including lodging & food for the 5 day immersion is $3888 USD ($5250 CAD for Canadians) with payment plans available.
It is a big devotion to decide to become a Kundalini Codes Activation Facilitator. This process asks you not just to intellectually learn but to be willing to completely surrender & immerse in your own personal healing. It is both an intensive & truly life-altering journey to embark on. Please be aware of that it will be an average of 3-5 hours of learning & practice per week in Spiral 1.
Before applying ensure that this time & financial commitment is fully a SAFE & FULL BODY YES for you at this moment. If not, you can always apply for a future training 🌹
Pretty sure I'll be doing this for the rest of of my life 🙃
Looking forward to co-creating together!
Discover Our KCA Facilitators
Meet all of our current Kundalini Codes Activation facilitators sharing the Divine Mother frequency all over the world!
Check Out Other Client Testimonials
Read & listen to what clients who have experienced Kundalini Codes Activation have to share about their journeys!